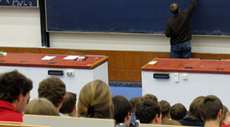 Yesterday Ralph D. Winter Library at Olivet University main campus acquired six thousand new books at the school's main campus location in Southern California.
The new books support the programs of Olivet School of Art and Design, Jubilee School of Music, Olivet School of Journalism, Olivet School of Language Education, Olivet Theological School and Seminary, and especially the general education curriculum common to all the bachelor programs of all Schools.
After the move of Olivet University's Los Angeles extension library and a part of the San Francisco holdings to the Riverside Campus in Anza California RDWL main library started settling in its new main location. The development plan launched immediately at that time included substantial additional resources acquisitions.
The current purchase as part of this plan is the latest milestone for RDWL to improve its program support for all Schools.